The following equipment is what we are currently using on our farm and we can recommend for cultivation of Microgreens.
L'équipement suivant est celui que nous utilisons actuellement sur notre ferme et que nous pouvons recommander pour la culture de Microgreens.

Trays - Plateaux
2-Pack Seed Sprouter Tray BPA Free PP Soil-Free Big Capacity Healthy Wheatgrass Grower Sprouting Container Kit with Lid
Lot de 2 plateaux de germination de graines sans BPA en polypropylène,kit de germination avec couvercle
Lighting - Éclairage
(6 Pack) Barrina T5 LED Shop Light Plug and Play, 4FT, 2200lm, 6500K (Super Bright White), 20W, Utility Shop Light, Ceiling and Under Cabinet Light, ETL Listed, Corded Electric with ON/Off Switch
Lot de 6 lampes LED Barrina T5 Plug and Play, 1,2 m, 2200 lm, 6500 K (blanc super brillant), 20 W, éclairage d'atelier, plafonnier et sous armoire, homologuées ETL, électrique filaire avec interrupteur marche/arrêt
Barrina LED Grow Light 2FT, 96W(4 x 24W, 600W Equivalent), Full Spectrum, V-Shape with Reflector Combo, Grow Lights for Indoor Plants, Greenhouse, 4-Packs
Barrina Lot de 4 lampes de croissance LED de 7,6 m, 96 W (4 x 24 W, équivalent 600 W), spectre complet, forme en V avec réflecteur, lampes de culture pour plantes d'intérieur
Seeds - Semences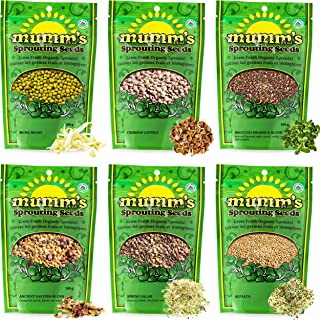 Mumm's Organic Sprouting Seeds
Semences Bio Mumm's
Links are to products available on Amazon.ca, we will receive a commission for your purchase.
Les liens sont vers des produits disponibles sur Amazon.ca, nous recevrons une commission pour votre achat.

As an Amazon Associate I earn from qualifying purchases - En tant qu'associé Amazon, je gagne une commission des achats éligibles